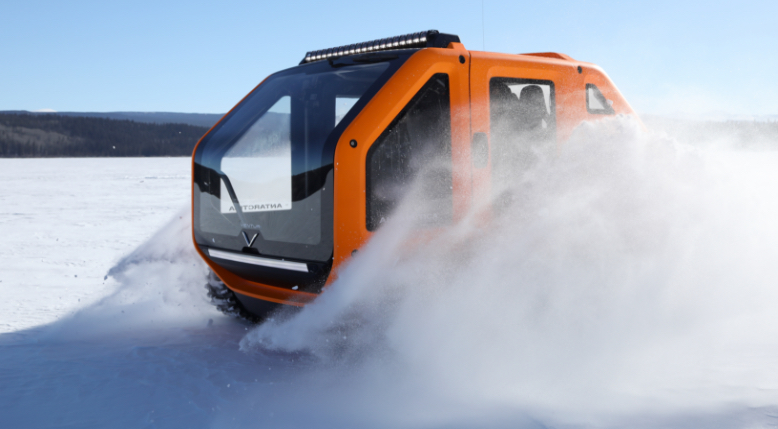 The
C

hallenge

Inspired by Prince Albert II of Monaco following a visit to the Antarctic, Mission 03: Antarctica is the only project of its kind.

For Venturi, experts in electric mobility, the aim is to develop an electric vehicle capable of navigating hostile terrain and withstanding temperatures as low as -50°C. After the mission, the vehicle will be made available for use by the scientific community in Antarctica. This zero-emissions mode of transport will ensure that the scientists are able to carry their equipment to research sites without impacting the environment.

An electric vehicle with wheel-mounted tracks, Antarctica delivers power of 2 x 60 kW and weighs approximately 2 tonnes. Designed to operate in the extreme Antarctic conditions, it can carry up to three people along with luggage and equipment. It has a range of around 50 km at a speed of 25 km/h in real operating conditions.
"Back to
T

elegraph Creek" expedition

On 6 March 2019 in British Columbia (Canada), the Venturi Antarctica travelled 42 km in extreme temperatures as low as -30°C. The aim of the expedition was to put the machine through a battery of tests in climatic conditions similar to those at the South Pole.
For Venturi, the adventure was an opportunity for a "zero emissions" take on Citroën's Croisière blanche (also called the Bedeaux expedition), a 20th-century automobile raid that entailed crossing the Canadian North-West. That historic expedition ended in failure, owing to the nature of the terrain and the disastrous climatic conditions.
On Telegraph Creek Road, considered to be one of the world's most dangerous highways, three exceptional drivers took their places aboard Antarctica: H.S.H. Prince Albert II of Monaco, the Canadian astronaut Chris Hadfield, and the President of Venturi North America, Xavier Chevrin.