V

BB-3's world speed record anniversary
For seven years now, Venturi has held the world speed record in the electric category, at 549 km/h (341 mph). The Monaco-based manufacturer of high-performance electric vehicles, now active in the field of lunar mobility, looked back on the road travelled so far.  
On September 19, 2016, the sun rose over the Bonneville Salt Flats in Utah.  Under the watchful eye of the FIA, the International Automobile Federation, teams from Venturi and Ohio State University were about to make history. That day, they broke yet another world speed record, reaching 549 km/h (341 mph). Seven years ago, with the first model of their streamliner, an exceptional odyssey had begun. From 2009 to 2016, on the same speedway, different models of the Venturi Buckeye Bullet — the VBB — regularly broke their own records.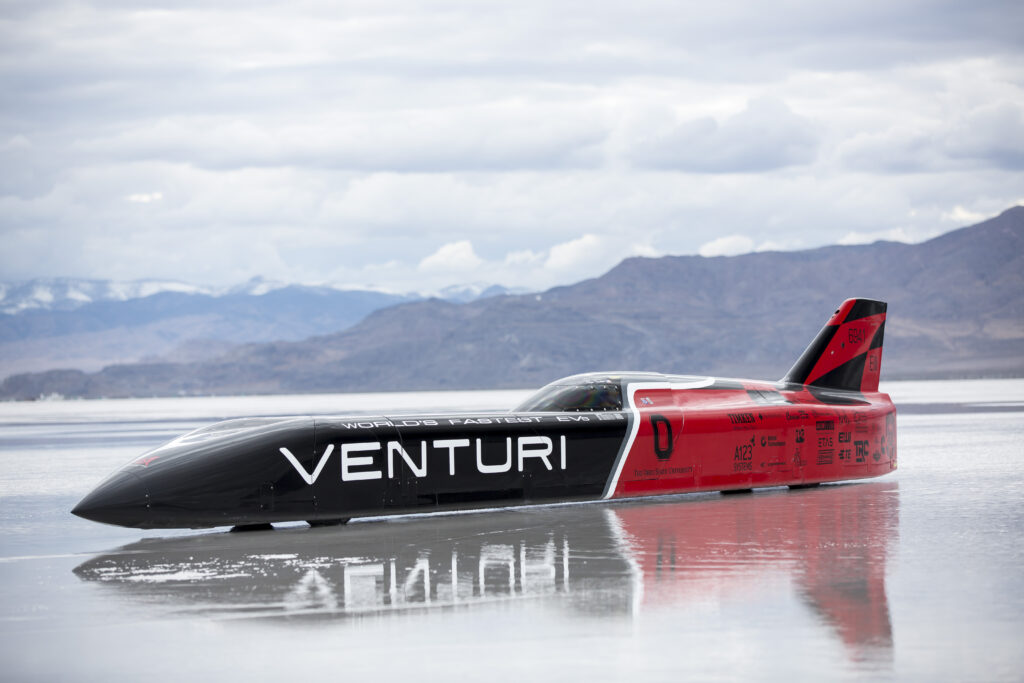 In 2008, Venturi President Gildo Pastor met with the heads of the mechanical engineering department of Ohio State University with the desire to support the training of tomorrow's engineers. Since he bought Venturi (in 2000), established it in Monaco, and launched it on an almost non-existent market — electric vehicles, Mr Pastor's wish has been to demonstrate the efficiency of electric engines. Thus, he pulled out all the stops, offering to co-design a 'rocket on four wheels' with the university. The goal? Generate a paradigm shift among players in the global automotive industry.
The project was completed in 2009 with the first machine in the series: the VBB-2.  This model stood out for the source of its electrical power — hydrogen (the principle of a fuel cell) — thanks to which it reached a speed of 487 km/h (303 mph) that year.  From 2010 to 2016, the streamliner evolved. It became exclusively powered by batteries and progressed, from model to model, reaching 549 km/h (341 mph) in 2016. The driver of the various VBBs remained unchanged throughout the programme: the American Roger Schroer, a member of "300 MPH Club" which brings together the 60 drivers in the world who have reached a speed of more than 300 miles per hour (483 km/h).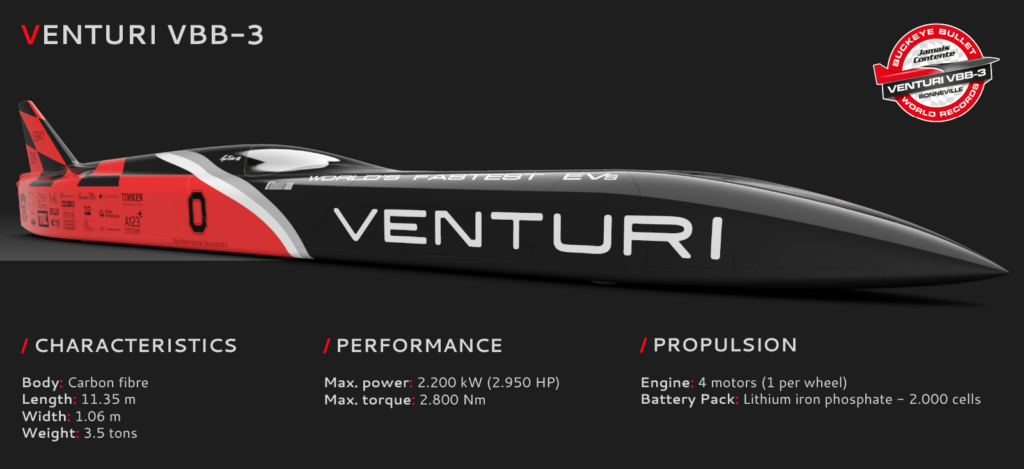 In September 2023, to celebrate the seventh anniversary of the most recent record to date, Gildo Pastor is displaying the first ever electric vehicle used for speed records — the Jamais Contente — at Venturi (7, rue du Gabian – Monaco). Designed, manufactured and driven by the Belgian Camille Jenatzy, this four-wheeled torpedo is the first electric vehicle in history to reach the 100 km/h (62 mph) mark. On April 20, 1899, in Achères, France, the pilot took his formidable machine from 0 to 105.882 km/h (65,79 mph) in 34 seconds, thus setting a world record for any means of propulsion (electric, steam or gasoline). After the exhibition, the vehicle will be returned to the Musée National de la Voiture, located in the Château de Compiègne (France).
"With this record programme, I built a bridge between two generations. I paid tribute to the first person to develop electric engines, Camille Jenatzy, and I supported his spiritual heirs, the students at Ohio State University: young people who represent the future of the automotive industry."
– Gildo Pastor, President of Venturi
With Venturi now active in lunar mobility, will the brand no longer pursue new land speed records on Earth? Never say never…
Camille Jenatzy's Jamais Contente,
on display at Venturi headquarters
(7, rue du Gabian – Monaco)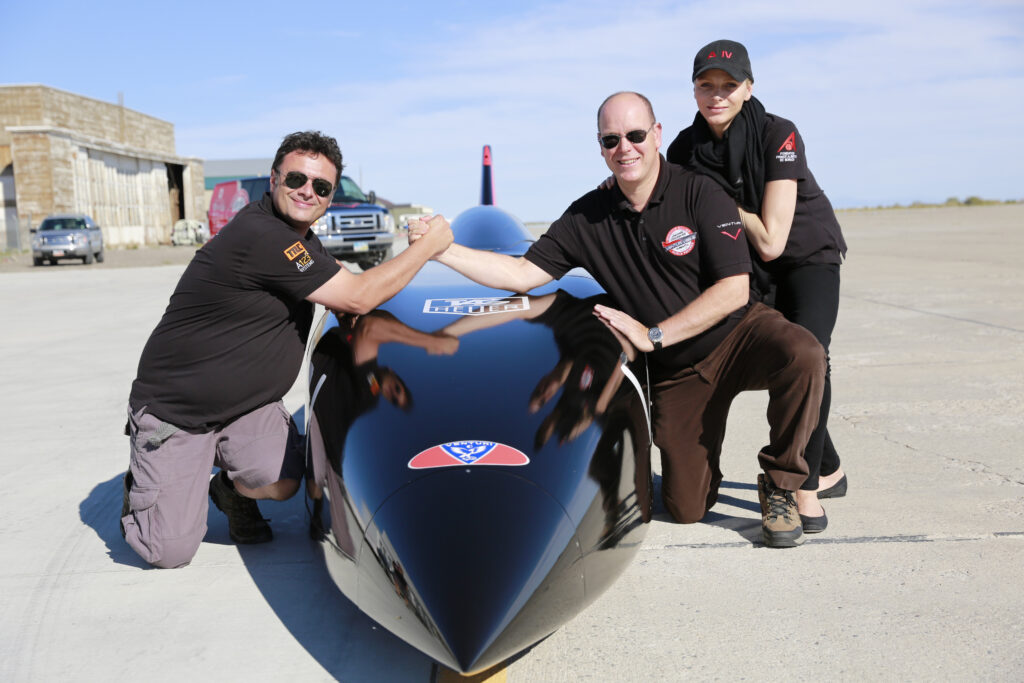 Gildo Pastor with H.S.H. Prince Albert II of
Monaco and H.S.H. Princess Charlene of Monaco
(USA, Bonneville, 2013)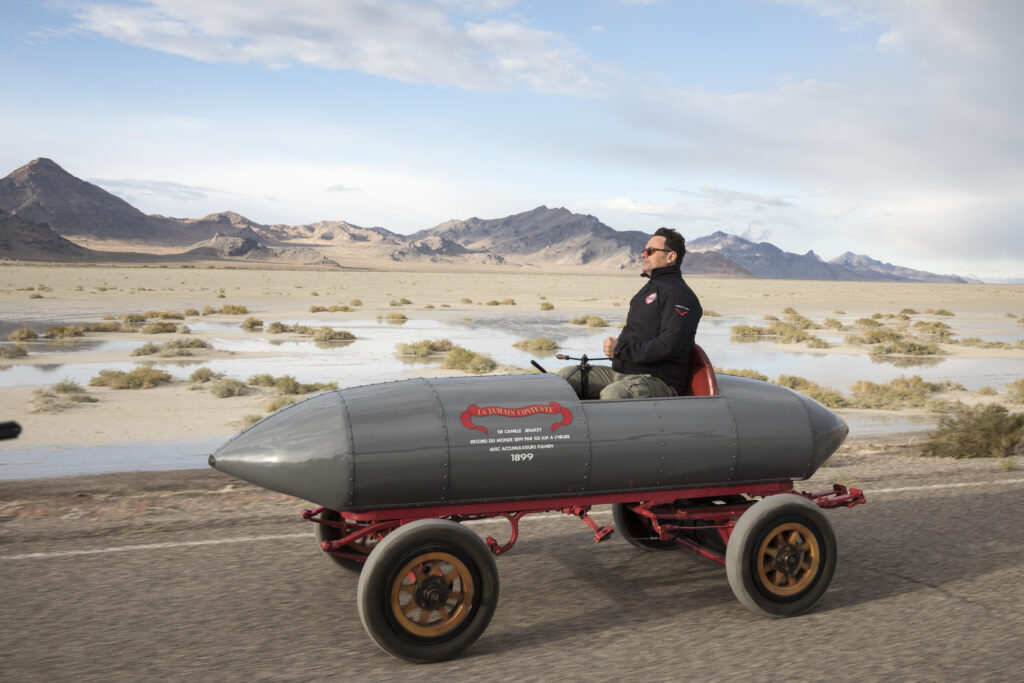 Gildo Pastor driving the replica of
Camille Jenatzy's Jamais Contente
(USA, Bonneville, 2017)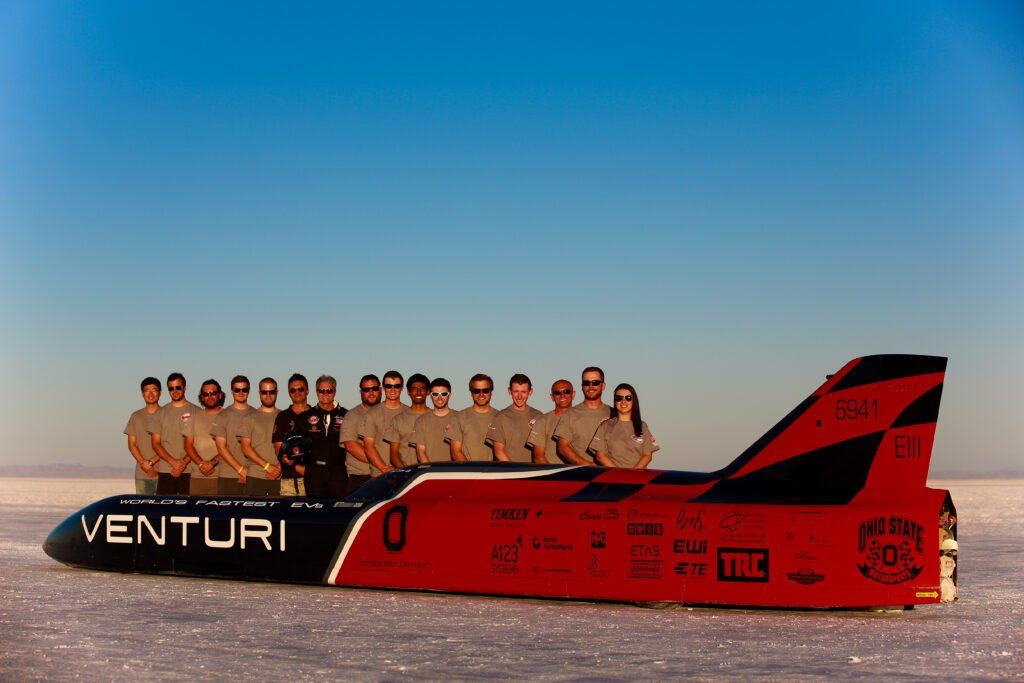 The teams from Ohio State University and
Venturi – Centre: Gildo Pastor & Roger Schroer
(USA, Bonneville, 2016)