M

ission 07: Spitzberg accomplished!
To commemorate the centenary of Prince Albert I of Monaco's death, Venturi President Gildo Pastor entrusted one of his team members with a mission: to ski more than 220 kilometres across a Norwegian island mapped by the great-great-grandfather of H.S.H. Prince Albert II between 1898 and 1907. Mission accomplished!!
On cross-country skis, Xavier Chevrin, Venturi's eco-explorer, rose to the challenge set by Gildo Pastor. The President of the Monegasque business had asked him to represent the brand with a trek; an adventure designed to pay tribute to Prince Albert I of Monaco, who passed away 100 years ago on 26 June 1922.

A century later to the day, and following a three-week effort, Xavier Chevrin reached the end of his journey. On the island of Spitsbergen, in the middle of the Arctic Ocean, 900 kilometres from the North Pole, Xavier crossed (among other areas), "Albert I Land". He departed from Mount Grimaldi then crossed the Monaco Glacier to reach Prince Albert I Mountain and, finally, Princess Alice Mountain. The names of these locations originated in Prince Albert I's many expeditions. At the turn of the twentieth century, the man known as the "Scholar Prince" was the first to map the Norwegian island of Spitsbergen from the sea.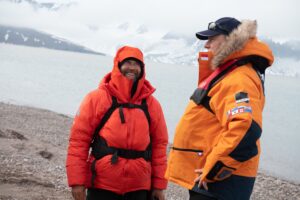 On completion of this effort, at 11.30 a.m. on Sunday 26 June 2022 at the foot of Princess Alice Mountain, Xavier Chevrin had the honour of being met by H.S.H. Prince Albert II of Monaco. The Sovereign was accompanied by the President of Venturi, Gildo Pastor. The three men share with Prince Albert I an interest in protecting the environment, and a passion for adventure and teamwork.
Naturally, the hours which followed were full of stories, as the three swapped knowledge and experiences. Xavier Chevrin shared his grief at being faced with floods of melting snow and lakes of water formed by the snow that had melted during one season. Not so long ago, these things did not occur. Xavier also reported that in June, 1,000 kilometres from the North Pole, the ice was dramatically absent from Spitsbergen's coastline.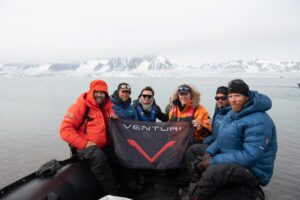 "I am proud to have flown the flag for Venturi and for the Principality to pay tribute to the memory of Prince Albert I. As a representative of Monaco, I have achieved two world firsts connected with the Principality: my guides and I climbed Kapp Guissez, named in honour of Lieutenant Théodore Guissez, a member of Albert I's crew,
and we set foot on the Albert I Glacier."
Xavier Chevrin, Venturi eco-explorer
"We are honoured to have paid tribute to Prince Albert I through this exceptional adventure. Everything that I do with Venturi, I do for my country, to fly the Monegasque flag high. I wanted to demonstrate to Prince Albert II the respect I have for Prince Albert I, for the work that he did to promote sustainable development; a task which our Sovereign is tirelessly continuing."
Gildo Pastor, President of Venturi Group
© : Eric Mathon / Palais Princier