F

ollow Mission 07: Spitzberg with a dedicated Website and app
As part of commemorations to mark the centenary of the death of Prince Albert I of Monaco, the President of Venturi, Gildo Pastor, has entrusted one of his team members with a very special mission: to ski 220 kilometres across the island of Spitsbergen during the first three weeks of June. This Norwegian island, part of the Svalbard archipelago, was mapped from the sea by Prince Albert II's great-great-grandfather between 1898 and 1907.
The task handed to Xavier Chevrin, Venturi's adventurer, will be to cross (among others) "Albert I Land", setting out from Mount Grimaldi, before crossing the Monaco Glacier to reach Mount Prince Albert I, and finally Mount Princess Alice. This journey will be unique, in that it will require Xavier (and his three guides) to open a new passage through as-yet unexplored valleys.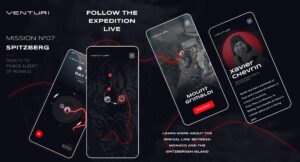 For Gildo Pastor, it is important to ensure this world first can be shared with the widest possible audience. That's why a (free) mobile app is available to download, via the QR code below. It will allow users to track Xavier's progress on a map of the region, follow weather reports, listen to the latest chapter in his log every day, receive photos taken by the adventurer, and even send him messages of encouragement. The app is also packed with fascinating information about the life of Prince Albert I, the geography of Spitsbergen, its wildlife, and points of interest. The app's content is also available at https://mission7.venturi.com/en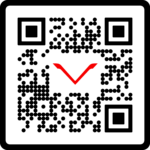 Download app
ABOUT VENTURI
Since 2000, the Venturi Group has specialised in the design and manufacture of high-performance electric vehicles. Whether through world records, expeditions on hostile terrain, the creation of the first electric sports car, the development of innovative vehicles or its involvement in the Formula E World Championship, the VENTURI Group embodies and demonstrates all the capabilities of the electric vehicle on 2 or 4 wheels. Since 2021, Venturi Lab is part of the Venturi Group. The company invents, studies, designs and manufactures mobility solutions capable of handling the extreme environmental conditions found on the Moon and Mars.